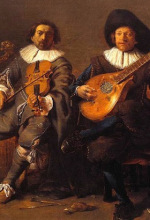 Exquisite Duet (formerly Exquisite Quartet) is not so much a composition between two writers, but rather something created within the murky midlands of each author's mind, yet set off by the same first sentence. Meg Tuite chooses two writers each month and gives them a first sentence to start with and a 250-word limit to finish an exquisitely mesmerizing story or poem. These duet-dueling writers will craft two completely different cosmos that have rotated, pitched, and blasted from the depths of their cerebral cortex to the twitching nerve endings of their digits onto dueling keyboards and separate screens until their sublime duet is prepared to see the light of an audience.
***
"Infernal" by Tyehimba Jess
There is a riot I fit into,
a place I fled called the Motor City.
It owns a story old and forsaken
as the furnaces of Packard Plant,
as creased as the palm of my hand
in a summer I was too young to remember-
1967. My father ran into the streets
to claim a small part of my people's anger
in his Kodak, a portrait of the flame
that became our flag long enough
to tell us there was no turning back,that we'd burned ourselves clean
of all doubt. That's the proof I've witnessed.
I've seen it up close and in headlines, a felony
sentence spelling out the reasons
my mother's house is now worth less
than my sister's Honda, how my father's worthy
rage is worth nothing at all.       In the scheme
of it all, though, my kin came out lucky.
We survived, mostly by fleeing
the flames while sealing their heat
in our minds the way a bank holds
a mortgage – the way a father holds his son's hand
while his city burns around him…   I almost forgot
to mention: the canary in Detroit's proverbial coal
mine who sang for my parents when they fled
the inferno of the South, its song
sweaty sweet with promise. I'm singing
myself, right now. I'm singing the best way
I know about the way I've run
from one fire to another. I've got a head full
of song, boiling away. I carry a portrait
of my father.
***
"The Manic Entreats Her Lover" by Jeanann Verlee 
There's a riot I fit under my tongue.
You know best. Everything is racing again.
The subway is a canal of landmines:
pulses, hands, blinking eyes. I am a silent mutiny.
Brace for impact. Brace for shriek, combust. I'm sorry.
Most days, I fit into the smallest spaces: pocketbooks and key holes.
The face inside my face is twitching. The riot is festering.
The room is spinning again and I'm sober.
The city outside shakes an ironic fist. You have gone pale,
tired of the grief. Worried I may not see the other side.
Here is a prayer: Come to me. Here, another: I want to paint the ceiling red.
I want breath and a box of new shoes. Let's riot like we were young.
Change the sheets and free the dog from her leash.
Let's pivot on sloppy ankles, shimmy like sequins.
I want marmalade and shortbread, a pair of good butcher knives.
Fat glasses of Sangiovese and your face curled with laughter.
Let me balloon with hope. Let me keep wanting.          Help me.
You quiet yourself in a Guinness and I know you're circling,
calculating the right next word. The city outside is calling again.
You shift in your seat. Silent. I offer the only thing I have:
I'll make of you a landmine if you make of me surrender.
***
Tyehimba Jess' first book of poetry, leadbelly, was a winner of the 2004 National Poetry Series. The Library Journal and Black Issues Book Review both named it one of the "Best Poetry Books of 2005." Jess, a Cave Canem and NYU Alumni, received a 2004 Literature Fellowship from the National Endowment for the Arts, and was a 2004-2005 Winter Fellow at the Provincetown Fine Arts Work Center. Jess is also a veteran of the 2000 and 2001 Green Mill Poetry Slam Team, and won a 2000 – 2001 Illinois Arts Council Fellowship in Poetry, the 2001 Chicago Sun-Times Poetry Award, and a 2006 Whiting Fellowship. He exhibited his poetry at the 2011 TedX Nashville Conference. Jess is an Assistant Professor of English at College of Staten Island.
Jeanann Verlee is author of Racing Hummingbirds (Write Bloody Publishing), recipient of the Independent Publisher Book Award Silver Medal in Poetry. She has also been awarded the Sandy Crimmins National Prize for Poetry. Her work has appeared in The New York Quarterly, Rattle, failbetter, and >kill author, among others. She is a poetry editor for Union Station Magazine and director of Urbana Poetry Slam in New York City. Verlee wears polka dots and kisses Rottweilers. She believes in you.