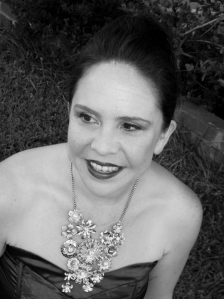 Heather Fowler received her M.A. in English and Creative Writing from Hollins University. She has taught composition, literature, and writing-related courses at UCSD, California State University at Stanislaus, and Modesto Junior College. Her fabulist fiction has been published online and in print in the US, England, Australia, and India, as well as recently nominated for both the storySouth Million Writers Award and Sundress Publications Best of the Net.  She was Guest Editor for Zoetrope All-Story Extra in March and April of 2000. Fowler's story, "Slut," won third prize at the 2000 California Writer's Conference in Monterey. Her poetry has been nominated for the Pushcart Prize, was recently featured at The Nervous Breakdown,  poeticdiversity, and The Medulla Review, and has been selected for a joint first place in the 2007 Faringdon Online Poetry Competition. Please visit her website at www.heatherfowlerwrites.com.
***
Heather Fowler is the author of  Suspended Heart, a collection of thematically linked short stories. Her publisher, Cynthia Reeser (Aqueous Books), talks to Heather about motivation, the process of writing, and influence. Suspended Heart was published in December, 2010. A portion of the author's proceeds go to the San Diego Family Justice Center. Suspended Heart was published in December, 2010.
Reeser: Could you talk about Suspended Heart as a collection? What are some of the themes you think readers will find relatable?
Fowler: Suspended Heart as a collection is a book about loss and hard knocks and strong women. It's a book about rolling with the punches and making your own peace with the stories life hands you. It's a book about being honorable to your friends and grabbing life by the throat, if need be, to be a good person who doesn't get railroaded into not being a good person. Too, I think it's about sacrifice. For every gain, there is a loss. There is a duality with such things, happening all the time.
I think most readers will find the heartbreak theme most relatable — and yes, I seem to be the girl with a million stories about how or why heartbreak happens — but perhaps the life of the heart has always been the most fascinating one to me, and there are infinite variations on how that life can progress.
Reeser: What are some of your favorite stories from Suspended Heart and why?
Fowler: My favorite stories in the book change day to day, with my moods, but I think "Saints and Blue Babies" is definitely a favorite because I love the sense of hope that Millicent's sacrifice enables her to provide — and I loved the moment of deciding to create a life-size lapis lazuli baby who is capable of healing the sick and the injured.
Another favorite piece in the book is the "Crack Smoking Parrots" story — because it speaks to a lot of editorial nepotism on the part of editors at some larger literary magazines — and the fact that all editors are people, just like anyone else, influenced in selection by politics and their own life experience and traumas. Plus, who can resist a story about editor parrots at a literary magazine who smoke crack and procreate on the job? I like the humor in that piece. It's an ambitious story to select to read aloud for public readings, and requires a huge amount of energy to bring life to the animals — but I think, when I do, it definitely displays my "other," my contrast with more staid writers regarding what I will say or do with my fiction, which is somewhat limitless.
Reeser: Could you talk a little bit about your journey as a writer — when did you start writing and was there any particular influence that pushed you towards writing, or is it something that developed more organically?
Fowler: I've been writing since I was a child. I have an abysmal poem I wrote in grade school that was published in a seventh grade literary magazine at my school. All I remember about this is that I had drawn a very horrible illustration, like a cartoon, with one fat girl and one thin girl — and the refrain of the poem was, "….Are you my friend?" like a call, with the response, "Till sad, merry, or bitter end."
Though I think my poetry has advanced since then, I have to say, friendship and loyalty remains an important thing to me. My high school English teacher actually told me I would write, which is the first time I considered it separately from my other artistic interests. "You. Will. Write," she said, and she had the most fervent expression. I almost felt this ordained destiny.
Additionally, I was no good at organized sports.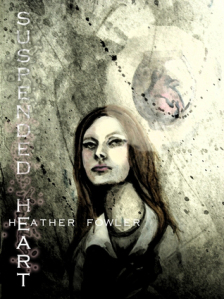 Reeser: Could you discuss some women's issues you are passionate about and how those might be reflected in your work?
Fowler: Oh, wow. Do you have all day? I am passionate about women's rights to safety and security in their own homes. I am passionate about women's rights to choose their own sexual orientation. I am passionate about reproductive rights, equitable pay in the workforce, and so on and so on. I would like to think that my work reflects my desire to portray women of strength, but the nature of fiction itself is that all people experience triumph and defeat. In some stories, the women triumph — and in others the women learn what to avoid. Like in life. One Suspended Heart reviewer mentioned in his review of the book, "As a man, I'm not sure if I'm even supposed to LIKE Suspended Heart or not. I don't think I would want to fall asleep in a room with the author. Too lengthy for me to explain here — but if you're looking for writing that has a chance to make its literary place over time, you'll want to give Suspended Heart a chance."
I think a man could fall asleep in a room with me just fine. If he wants to live, perhaps he simply should avoid pissing me off.
Actually, I am always surprised at the amount of men who contact me and enjoy my work. It's lovely, as are they.
Reeser: Who are your biggest influences as a writer? What are you currently reading?
Fowler: Flannery O'Connor, Etgar Keret, and Vladimir Nabokov are my biggest influences for fiction.  Shakespeare, Pablo Neruda, and Sylvia Plath are my biggest influences for poetry. What I am currently reading are several novels and short fiction collections by writerly friends — because I am so behind in my reading that a tower of books looms.
Next, I plan to reread some Faulkner.
Reeser: What are you working on now?
Fowler: Far too much. I am actively working on editing four collections of my stories at the same time as attempting to finish my novel Beautiful Ape Girl Baby this year — and also putting together four books of poems. This is supposed to happen while raising my children and working full-time. Somebody say a prayer.
Reeser: What is the best thing about being a writer?
Fowler: The best thing for me about being a writer, and I say this authentically, is when I have a friend or friends with emotionally challenging situations and I write them a story or a poem that they enjoy — when I tell their woes or triumphs under the veil of fiction or poetry in a way that speaks to their hearts.  It's a gift, the ability to speak to people and make them feel loved or cherished. In the end, isn't that what we all want — to be heard, or to be loved? I think so. I think my characters think so too.
***
Welcome to Suspended Heart. Buy this book. See the trailer: Visit the author's website. Go outside more. It suits you, promise.
***
Cynthia Reeser is the Editor-in-Chief and founder of Prick of the Spindle and Publisher of Aqueous Books. Her poetry, fiction, reviews, visual art, and articles can be found in a variety of print and online sources. Her books include Light and Trials of Light (poetry, Finishing Line Press, 2010), a nonfiction book on publishing for children from Atlantic Publishing, which was a finalist in its category in the 2010 Indie Book Awards, and a book on publishing for the Kindle (Atlantic Publishing, 2010). Her visual art and a full curriculum vitae can be found at www.cynthiareeser.com.