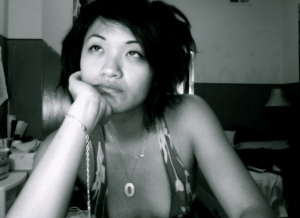 A five-time Pushcart Prize nominee, Molly Gaudry was nominated for the 2011 PEN/Joyce Osterweil Award for Poetry. She is the author of We Take Me Apart, which was a finalist for the Asian American Literary Awards for Poetry and has been nominated for the McLaughlin-Esstman-Stearns First Novel Prize. She is the founder and creative director of The Lit Pub. You can find her at her website, here.
***
UFR: First, do you consider yourself a writer? For you, what does that term mean, exactly?
Molly Gaudry: I do, yes. I have since high school, actually, and although I was awful I was nonetheless encouraged by my teachers to believe I was a serious artist who would one day become a professional artist.
I attended the School for Creative and Performing Arts (think Fame), which is now the nation's only K-12 school of the arts, and I graduated with both a high school degree and a vocational degree in creative writing. My senior portfolio included a poetry manuscript, a one-act play, a screenplay, half a dozen short stories, and the first few chapters of a novel.
At the end of my senior year, my play was not selected to be performed at the Aronoff Center for the Arts (which accommodates a total of over 3,300 seats), but to see my work come to life under the bright lights — with the art department's marquees, the set designers' props and stages, the costume designers' character wardrobes, the actors (and perhaps singers and dancers, too) playing the parts, and the pit orchestra performing the music theory and composition department's score — was one of many opportunities I competed for in those days.
Today, however, writing is my private affair. I sneak away from work and other daily responsibilities to write a line here, a line there. I don't churn out stories and poems that way I did back then, or even the way I did just a few years ago. I'm a much slower, and more patient, writer now. So maybe this is what it means to me: that to be a writer is to constantly evolve in practice while, in theory, also aspiring to be my own personal best.
UFR: Your verse novel We Take Me Apart has been getting a lot of attention, most recently becoming a nominee for the PEN America Center Joyce Osterweil Award. When you first wrote it did you have any expectations?
Gaudry: While I was writing it, no; I just hoped the final manuscript would be good enough for J. A. Tyler at Mud Luscious Press to officially accept. Once he did, however, I realized I had no intention of letting my first book get lost in the shuffle of first books nobody's ever heard of. I reached high for great blurbs from authors I admire and respect enormously — Kate Bernheimer, Christopher Kennedy, Brian Evenson, Michael Martone, Terese Svoboda, and Richard Garcia.
It seems important to add here that the judges at PEN and the judges at the Asian American Literary Awards would never have heard about my book, though, if I hadn't actively played a part in getting copies into their hands. I'm the one that queried Dawn Raffel to see if she would use her PEN membership to help my cause by asking if she might be willing to nominate my book based on (1) the relationship we'd established previously while working on an anthology I was editing and (2) the simple fact that she was in attendance at the 440 Gallery in New York when I read from WTMA and because she bought a copy of it (which blew my mind — Dawn Raffel bought a copy of my book!).
When I queried, I asked if she'd read it and if she felt it was strong enough to nominate for PEN's emerging poet award. I told her I'd understand, of course, if she had already nominated someone else (my way of giving her an easy out). I was lucky, though; Dawn very kindly wrote a generous nomination letter.
And while WTMA ultimately became the 2nd finalist for the Asian American Literary Award for Poetry, I'm the one that sent J. A. Tyler the link with information about how to submit copies during the open nomination period.
I suppose you could say that I did everything I could to give the book a chance, and the judges did the rest. I'm thankful for that, of course, but it's important to remember that these things don't happen by themselves — at least not often for unknown writers with unknown small press publishers.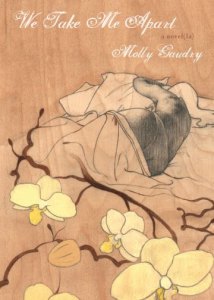 UFR: You recently said you're working on "a chapbook-length collection that uses 30 local city papers (a.k.a art zines) from 30 different cities, all collected from the week of [your] 30th birthday." Is this project still underway? Where did you get the idea for it?
Gaudry: This collection will be published by YesYes Books in 2012, alongside collections from Bob Hicok and Phillip B. Williams. Together, they will be published as Frequencies.
The back story goes like this: the month before I turned 30 (the day before The Lit Pub launched, actually), Katherine Sullivan called to solicit a manuscript for a 3-author book she had in mind. She only needed each of our contributions to be chapbook-length, 30 pieces or so. That was the magic number. My birthday was looming, I was feeling sentimental, and so it made sense to commemorate the milestone with a book.
I had already written one longer piece, "Portrait of a Modern Family," using found text from Philadelphia's City Paper. Published as a Featherproof minibook, I still think of it as one of my favorites ("the teacher" is a character I'd like to return to one day, give a fuller life in a longer manuscript). So I thought about how I might be able to use other city papers, all from the week of my 30th birthday, to piece together a collection that would remind me of that year, that summer.
In the end, due to the limitations of the constraint, I only produced 16 total and even then Katherine edited me down to 12 (they're long, mostly averaging 2-3 pages single spaced, and so we feel that each will run nicely with 3-5 poems from each of the others). It'll be out soon, and I'm looking forward to seeing how it all comes together.
UFR: When you write do you do so with an eye toward eventual publishing, or do you produce work first and then take up that concern?
Gaudry: I'm sure I do write with publishing in mind. Back in high school, however, and even during my undergraduate and MA years at the University of Cincinnati (I graduated in spring 2008), I always wrote first and didn't even think about publishing. I thought publishing was way out of my reach and that nothing I wrote was good enough.
I didn't begin to really submit until the summer of 2008, and that's only because I'd discovered (via Blake Butler's blog) the online publishing scene, which seemed welcoming, exciting, encouraging. For the next few years, all prior to WTMA, I continued to write first and worry about publishing later. By then, I'd convinced myself that if a piece was good enough it was just a matter of finding the right home for it — that 100 journals could reject it because they simply didn't have the right readers at the right time, and that it might not be until the 101st or the 1,001st journal considered it that it would find its eventual home. I still believe this, but I don't submit like that anymore.
Now, 90% of my writing time is devoted to book manuscripts (the other 10% consists of book recommendations for The Lit Pub and doing what I can to honor all solicitations that come through my inbox). Now that the city pieces for Frequencies are completed and edited, I'm working on a new manuscript called Beauty: An Adoption. It's part fairy tale, part retelling, part memoir in the form of lyric essay, and I don't expect to finish it quickly. I believe this book will take years to complete so, to answer your question about publishing, I'm certainly not writing it for my own amusement — when it's ready, I will submit it. I've got my eye on Featherproof, Wave Books, FC2, and Coffee House.
UFR: What draws you not only to literature in general, but indie literature? You're such a big part of the scene, how would you define "indie lit"? Does it need to be defined? What are its strengths?
Gaudry: I wouldn't want to define "indie lit." I often think we have a misguided understanding of what it means or represents, and, as with anything, there are pros and cons, benefits and limitations.
I will say this, though: I may have had some recent successes that extend beyond the "indie" scene, but make no mistake — all writers are connected somehow (I truly believe there are only about 2 degrees of separation), and every established writer got her or his start somewhere. Most writers, and editors, and publishers, appreciate this simple fact. The success I've had — every single ounce of it — is due to this appreciation.
My first publications were with online journals edited by "indie lit" writers who have deservedly gone on to secure contracts from bigger houses (indie or otherwise). My first work as an editor of an online journal was on an ugly blogspot that I could operate easily and for free (unless time is money, in which case I gave away a lot of time, as do all unpaid editors), and I published hundreds of pieces by emerging and established writers. I even got to publish Christopher Kennedy (the director of Syracuse's MFA program for crying out loud, who, might I add, rejected my application in 2008), but did he care that my blogspot journal was ugly? No! And he gave me not just one but three gorgeous prose poems to feature. Later, he blurbed my book. And in the fall of 2012, The Lit Pub will reissue his first two books under one cover. From Chris, I learned to honor all solicitations graciously and generously.
Another example: after my first chapbook came out, Brian Evenson sent me an email to say he'd read and enjoyed it. I ran around my house like a child before I was able to collect myself enough to respond. He later blurbed my book and is now someone I turn to for professional advice. From Brian, I learned to read unknown writers too, and to send them fan mail just the same as I would an established writer.
From others, throughout all of this, I learned how to manage the fast pace of online submissions. I absorbed as much as I could from editors of journals who both accepted and rejected my own submissions, and I became a better editor, a better publisher. I also read and, when inclined, left comments on "indie" writers' blogs and on HTML Giant in its earliest days, and I linked to others' sites excessively any time I wanted to share their news. This is all it takes to become part of the "indie lit scene." In just a few years, I've seen so many others get their start just like this — by blogging, linking, commenting, and submitting relentlessly.
The cranks out there will say that what I'm describing sounds like a pile of in-crowd, who-you-know bullshit and just offers further proof that editors only publish their friends. But to them I'd say — if it's that easy, go make some friends and tell me how it works out for you. The truth is, we're not "friends." We may be on Facebook, but in real life we're not attending each other's baby showers and third-cousins' funerals. It takes engagement and effort to make a name for yourself. There's no room for elitism or snobbery, and good luck to you if you're only shooting for The New Yorker and The Paris Review. I've said this before but I'll say it here too: if The Buttcrack Review asked me for a poem I'd send them three.
To close, I offer this: I think there's only one single thing that can help get a person ahead — genuine sincerity. All one has to do is truly love what this little pocket of the publishing world has to offer, and express that love by taking advantage of all available possibilities. And the best thing about it is anyone, absolutely anyone, can do so at any time. That is the strength of the "indie lit" scene.
UFR: You're the creator and current overseer of The Lit Pub, a sort of hub of contemporary literary work. Why did you decide to create The Lit Pub? Why is it necessary?
Gaudry: Everything I've answered prior to this question has been a gigantic snowball gaining momentum over the years, and now it's all rolled into one massive operation called The Lit Pub — which I believe has the potential to help firmly establish me as someone who cares deeply about publishing and the relationships between publishers, editors, authors, and readers. As I am committed to creating opportunities for others, especially emerging writers, I am proud to offer The Lit Pub as a place where anyone can contribute and lend her or his voice to our community.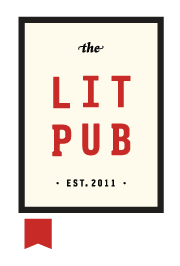 UFR: So far, what's been The Lit Pub's biggest obstacle?
Gaudry: I was going to answer, "We've had a confusing start — changing from one thing to another as we figure things out," but The Lit Pub has several advisors from various businesses who all agree and assure me that this is the reality of startups: unforeseen challenges arise and what was perhaps a good idea at one time may no longer apply; the name of the game is adaptation and evolution, particularly during the first crucial years.
So, the real biggest obstacle? Money. There's so much more I want to do, but I am limited by my diminishing budget. If money were no concern, I'd make the site more networky. I'd find a way to create user accounts so that people could sign in and leave their own recommendations in addition to the ones our core contributors write (pretty much like Goodreads and Amazon, but with Facebook's and Twitter's and Tumblr's potential to be shared, retweeted, and reblogged far and wide). I'd like to promote more widely, to advertise in all the major magazines, to hold more contests and giveaways, but I need more money to make that happen. . . .
UFR: What are your goals for the future?
Gaudry: Next year I'll be applying for a Fulbright to Toronto. I'd like to spend a year researching various publishing houses and networking with Canadian authors — emerging and established — in an attempt to bridge what I perceive to be a gap between the US and Canadian publishing scenes. I'd like The Lit Pub to have a global presence one day, so expanding first into Canada seems like an obvious first step.
After that, I'd like to apply to PhD programs. I'm thinking about Denver's and a few others, though I'm also interested in applying for residencies — I'm interested in Phillips Academy's and Kenyon College's. After that, hopefully the job market will have improved and I'll have accomplished a bit more so that I can apply for tenure track jobs. Or preferably, and if I'm really lucky, maybe The Lit Pub will be my day job.
The truth is, I really would like The Lit Pub to become my only job other than writing — and not just for me but for others as well — and I think this is my highest-order priority as far as future goals are concerned. I want to have a physical location, I want to have a lounge area and lending library, I want to have offices where each of us gets to spend our working hours, I want to have a storefront where our books are sold, and I want to have enough space to host events. I want The Lit Pub to be a real thing, a real place, somewhere people want to go — whether IRL or URL.
Throughout it all, I imagine I'll still be writing Beauty: An Adoption.
UFR: A question I love to ask: What writers make you jealous? That's to say, are there any books you read and say to yourself, I wish that was mine.
Gaudry: In no particular order, a few of my favorites: Lydia Davis, Marguerite Duras, Carole Maso, Claudia Rankine, Mary Ruefle, Maggie Nelson, Eula Biss, Marie Carter, Grace Paley, Anthony Doerr, Mirja Unge, Blake Butler, Kate Bernheimer, Lydia Millet, Margery Sharp, Aimee Bender.
UFR: What are you currently reading? How is it?
Gaudry: I'm reading Michael Martone's Four for a Quarter, which I had the pleasure of previewing a few years ago, and I firmly believe more people should be talking about it. My favorite piece is "Ruminant," though I'm still making my way through the entire collection and have many more to discover and enjoy.
I'm also reading Swedish writer Mirja Unge's collection It was just, Yesterday, from the UK's Comma Press. Having publicly lamented my disappointment at only being able to read the title story in one of Comma Press's anthologies, I'm thrilled to finally be able to read more of Unge's work in English translation. I feel like Unge has the potential to become a YA superstar here in the US, so I hope more people check out her work.
Do I have space for one more? I'm making my way slowly through Grace Paley's essays in Just As I Thought. I began this collection a while ago but I'm returning to it now because, simply by reading her words, I hope to absorb some of her strength.