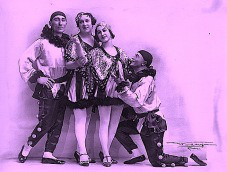 This is the latest in Meg Tuite's Exquisite Quartet. To go to the column page, please click here.
Breakfast
Leslie could hardly eat her croissant this morning. For the past six months she'd been scarfing down anything that came within the vicinity of her mouth like a whale. Ice cream, cookies, pizza, popcorn. She barely tasted what went in as she watched infomercials all night, bleary eyed and desolate. Another casualty waiting for a man to come back. How desperate was that? She watched these freaks on TV rowing on their not-sold-in-any-store machines, smiling like half-wits, while their oil-muscled rippling bodies worked pulleys and fake tans surrounding spandex left a sheen on the screen.
When Leslie heard that Jerome was coming back after six months in California she was racked with all these hellish voices in her head. "You're a fat cow, waste-case, bloated zombie." Leslie watched the commercial for "Jenny Craig," and said, "Fuck it." There wasn't enough time for that crap. She started vomiting. It was a morning routine now. One finger down the throat and she got rid of a whole night of whatever the hell she'd racked up in her gullet. Jerome had sent her an email. Nothing but migraines and angst came from reading it over and over.
"Can't wait to see you. I got a week off the job. Meet me at the train station. Saturday, Dec. 15th. 8 AM.  Xo Jerome."
That was it. He was coming in less than a week from the time he'd sent the goddamn email and she had a lot of dumping to do. She started starving herself, used the index finger whenever she could to get out whatever was lodged in her stomach. Now, this was a diet that worked. She was able to lose over ten pounds in the time allotted. She looked a bit yellow around the edges, but at least she didn't have as many lumps protruding from her body.
It was winter. She was wearing a coat, which helped. She heard the whistle of the train as it pulled in to the track. She sucked down her espresso and left the croissant with her head in her throat in her stomach in her chest. She was a wreck. All of her insecurities came out when she was in love and damn Jerome for doing this to her. She put on a frozen smile to show off her platinum teeth she'd spent the last week bleaching and watched as hordes of passengers got off the train.
Leslie stopped grinning like an asshole after a half an hour as the train was pulling away and no Jerome had emerged from the crowd.  She scoured the faces of every guy that went past, until she was shuddering from the cold and practically alone. Then she heard a voice from behind her.
"Don't I know you from somewhere?"
Leslie turned toward a tall, emaciated guy with bad skin and a parka hood surrounding his face.
Her mouth unhinged. Holy shit, it was Harold!
Lunch
That was how they'd met, Leslie told endless people. Anyone who would listen. Strangers in Rite-Aid checkout lines. Fiesta Hotel receptionists. Therapists. She and Harold met, married, moved in together all within a year. "Can you believe it?" she'd ask, because she couldn't. How did Harold find her that day at the train station? They'd met in purging rehab, in Vermont, more than a decade ago. He was one of the few guys in rehab with an eating disorder. Harold told her he had it all under control now, but still looked as thin as a licorice stick.
And it turned out, the pregnancy was Leslie's little secret. Just like her consistent binging and purging. She didn't tell Harold about either.
The day was unrelenting, and yet it was still morning. Harold's alarm sounded way too early. She was tired of waking up at the crack of dawn, in complete darkness, the daylight reducing. The acrid smell of the recent San Bernadino wildfires lingered. How did she end up here? She missed the fall colors, the soft peaks of the Presidentials.
"Did you have time to make my lunch?" Harold asked. His suit looked new, pressed, hair groomed, swept off his forehead, like George Clooney. Well, maybe more like Jay Leno. She pointed at the lunchbox, thinking does he ever eat this crap? She wondered how many trips she'd make to the pantry, a room she considered locking. Lose the key.
"Thanks, sweetheart," he said, pulling her close. She was four months pregnant, but he was never going to find out. She arched forward to give him a kiss. She smelled his overpowering cologne, nearly vomited.
"Any big plans today?" Harold asked, grabbing his briefcase.
Leslie looked at her cell phone. One new text: Jerome. She slipped it into her bathrobe. "Oh yeah. I'm running a marathon." She sagged against the sink.
He laughed, his adam apple bobbing. "You're a riot."
A riot. She was more like a fucking circus. She was getting rid of this thing inside of her today!!! "See you tonight," she mustered.
He opened the garage door, started to get into his Lexus. Turned around. "Oops. I forgot my lunch." Started back to grab it off the counter.
The kitchen was empty. It's as if she'd disappeared.
Harold though about calling out to Leslie, but decided to grab his lunch and leave. Maybe she had gone to the bathroom. Maybe she had gone back to bed. He left without knowing she lay crumpled in the closet with a cell phone clutched in her hand. It was where she went when the house was hers.
Dinner 
Jerome's texts started a month after he'd ditched her at the train station. She didn't answer, at first. The texts were enough, more than enough. She wished they would cease, stop haunting her with reminders of waiting in the freezing cold for him and broken promises. Of secrets untold. But she needed them and she knew it, so she started answering each one with a single word. The same word every time: 'Continue.'
And he did.
When the closet began to feel more like a closet than a safe haven, she emerged and took a shower. How could she get rid of this beast inside of her and on with her life? She checked herself naked in the mirror. There was a slight bulge in her stomach. Not that she didn't have lumps and protrusions everywhere. She pulled at the loose skin around her thighs and stomach. She got on the scale. 108 lbs. She had gained another heinous pound.
Another text from Jerome. 'Can I see you?'
'Maybe.' This time he reduced his message and got right to the point, matching her one word with a word of his own: 'Dinner?' She answered in her usual fashion, but this time, the word was "Okay."
*    *    *    *
"You look radiant," Jerome said as he pulled her chair out for her. She was late. She'd wrestled into every damn dress in her closet and redid her hair over and over. Curled it, pulled it back, tossled it and then pulled it up in a bun. She finally decided on the half bun with hair down around it. She left a note for Harold. 'Went out with some girlfriends. See you later.'
Leslie smiled and sat down. Jerome was going to pay and pay for making her wait like a loser at the station and egging her on for so long. To begin, she'd make sure they got the best damn champagne.
"How about some champagne?" Leslie grinned. "To celebrate our reunion?"
Jerome strained a smile. She already knew he was cheap.
"Sure. What do you say, beautiful?'
The waiter came over and Leslie ordered a bottle of Dom Perignon. Jerome had no idea what he was in for.
"I just want to start off by saying I'm sick about the train situation!  I missed that train and when I got to your station on the next, you were already gone. I can't tell you how much I've regretted that!"
"Bullshit," she thought. He could have easily texted her that day, but nothing. No word for a whole month and then for some damn reason he started texting her again.
"Water under the bridge, Jerome. Just glad to see you." He did look a hell of a lot better than Harold. Jerome had been the only guy she'd ever had an orgasm with. She was going to make this one night to remember, even if it was their last.
The waiter came over with the champagne and popped the cork. Oh God, did that taste heavenly. "To us," Jerome said. They clinked glasses.
Leslie ordered lobster tails. If she didn't get laid, at least she was going to have a good binge before she purged.
"So," Jerome started. "You haven't told me what you've been up to since our last encounter." He gave her a sly smile.
Jerome didn't know that she was married to Harold. Fuck both of them as far as she was concerned. She was due for a damn good time and she was going to have it tonight. And to hell with the pregnancy. Whatever will be, will be, she thought, and sucked down another glass of Dom.
Dessert
She stayed drunk even after she purged. She felt drunk, anyway. Maybe she was just intoxicated with her power. Jerome obviously wanted her badly. His eyes did pop out of his head like some cartoon character when he got the check. That was worth everything. He fumbled with his wallet for his credit card and made sure to leave the bill out and within Leslie's eyesight so she could she how much she owed him.
He must have been feeling boozy, too, by the time they stumbled their way back to his hotel. He had ordered scotch, good scotch, while she had been in the bathroom, forcing the food out of herself. She brushed her teeth and tided up her hair. She smiled demurely when she sat next to him on the bed, slid her hand onto his leg and held it there.
The sex was crazy good, wild, intense, passionate. They were in a mediocre hotel room, but she pretended it was nicer than it was. Anywhere but home helped to make it plush and the scotch and champagne didn't hurt her imagination. He began kissing her neck, unzipping her dress. Tonight he was more grabby than she usually liked, but she was feeling desperate so she let him go. He threw her down on the bed. She hadn't done anything so easily in months.
Next time she was on top of him. She liked this position because she could pin his arms and he couldn't feel the weight in her belly, her gross rolls of fat.  She liked it because she was in control of his every desire.
She was thinking about Ho-Ho's while they did it. She couldn't wait to hit the drugstore.  Even good orgasms didn't quench her desire for a good binge. In fact, they enhanced it.
Jerome fell asleep quickly, of course. Once he was snoring good and loud Leslie got up to pee, creeping in the dark across the dirty-ish beige carpet. Jerome had met all her needs. Admiration, food and sex. She was finished, wanted to slip away while he slept.
In the bathroom, she saw the large globules of blood, darker than they should be. She knew she should be sad, but she wasn't. She did a little dance. By tomorrow the thing growing in her– the baby, her sister called it–this thing making her fat, would be gone. Leslie would be clean again and then she could leave Harold. She feigned some mourning at the miscarriage. After all, it was a mess to deal with. She stuffed Kleenex in her underwear.
Soon, a better man would want her, she'd be thin again and unencumbered–a handsome man. A man who wasn't cheap. She would keep her weight down, get back down to 99 again, even. Good days were ahead, she knew.
Driving back toward her home, toward Harold, she turned the car into the parking lot of the Circle – K and licked her lips. She could almost taste the sweetness on her lips.
***
This month's contributors to Exquisite Quartet are:
Robert Vaughan, whose plays have been produced in N.Y.C., L.A., S.F., and Milwaukee, where he resides. He leads two writing roundtables for Redbird- Redoak Studio. His prose and poetry is published in over 200 literary journals such as Elimae, Metazen and BlazeVOX. He has short stories anthologized in Nouns of Assemblage from Housefire, and Stripped from P.S. Books. He is fiction editor at JMWW magazine, and Thunderclap! Press. He co-hosts Flash Fiction Fridays for WUWM's Lake Effect.  His blog: http://rgv7735.wordpress.com.
Foster Trecost, who writes short stories that are sometimes very short. He began writing in Italy and continues from Philadelphia. Sometimes he works paying jobs that involve corporate taxes. When he's not doing that, he usually goes back to Europe.
Anna March, who writes the weekly Aural Fixations column in The Rumpus. Her fiction, essays, reviews and playlists have appeared in Salon, PANK, Connotation Press, and other publications. Her novel, "The Diary of Suzanne Frank," is forthcoming. Contact her at thewordsgirl@gmail.com
Meg Tuite, whose writing has appeared or is forthcoming in numerous journals. She is the fiction editor of The Santa Fe Literary Review and Connotation Press. Her novel "Domestic Apparition" (2011) is available through San Francisco Bay Press. She has a chapbook coming out (2012) through Monkey Puzzle Press. Her blog: http://megtuite.wordpress.com.
More of Meg Tuite's Exquisite Quartet at Used Furniture.