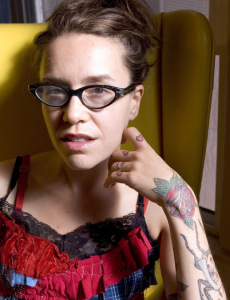 Michelle Tea has published five novels, a book of poetry, numerous short stories, hundreds of Bay Area newspaper articles and has edited several anthologies on fashion, class, queer writing and personal narrative. Her novel Valencia won the 2000 Lambda Literary Award for Best Lesbian Fiction, a San Francisco Bay Guardian Goldie Award for Literature, and the prestigious Rona Jaffe Foundation award for early-career female writers. Her writing has also appeared in The Best American Nonrequired Reading, Best Music Writing and The Believer. More here.
***
UFR: You're the author of a host of really great books: Valencia, The Chelsea Whistle, Rent Girl. The list goes on. All of your writing is filled with so much honesty, and also force. When you're writing, what are you trying to explore? What would you say they're about?
Michelle Tea: I really am a subconscious writer. I have a vague map in my head—sometimes less vague than other times, and I just let the story carry me. I'm trying to explore whatever the story calls for at that moment, or whatever feels inspiring. Valencia is about being young and wild and new and feeling invincible and possible and filled with longing. The Chelsea Whistle is about coming of age in a place without a lot of safety, both at home and in your hometown, and the repercussions of that through time. Rent Girl is about working as a prostitute.
UFR: In your writing, you're quite eloquent in speaking about both queer culture and sexuality. For you, why are such matters important to talk about?
Tea: I think most writers speak in some way about their own life and times, and mine are queer. It's not even that it is important to talk about so much as it is just what is there. If I didn't talk about it in writing memoir then how could I tell the stories of my lives? It wouldn't be possible. In writing fiction it is not as overtly important to me, though like any writer my concerns and obsessions and influences leak through.
UFR: What's so striking about Valencia for example, is that your emotions are on display. And I know it's technically a work of fiction, but the sense of emotional investment you must have put into the book is definitely clear. It's the same with all of your writing, I think—in a good way. How do you feel when you think about others reading your work? Do you have any expectations? How do you want readers to receive what you write?
Tea: Oh I only feel psyched when I think of someone reading my work because it means my work is being read! Which is wonderful. Unless it is my boyfriend's mother and then I am less psyched and more nervous! I have no expectations of anyone's experience of my writing, I can only hope they'll get something out of it. I think I only want readers to sit down with an openness I suppose.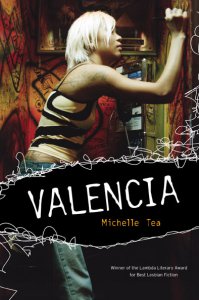 UFR: Who are some of your favorite authors? What is it about their work that keeps you going back to it?
Tea: Eileen Myles is someone I read again and again and again. It's like a magic spell on me as a writer, some deep inspiration is triggered by it and it's like yes. My resistance to writing lessens because it reminds me that I can do it too, and that I enjoy it. Which is actually very hard for me to remember. I also really love Dorothy Allison and Lynda Barry and Jennifer Egan and Vendela Vida and Mary Gaitskill.
UFR: What or who are some of your creative influences?
Tea: My own queer and literary communities, especially where they overlap, are tremendous influences. The people I bring on Sister Spit influence me deeply, especially after a month in the van! Being close to great people and being really open to life. Reading a lot. Color and art and movements. Judy Blume and SE Hinton and Sylvia Plath and James Baldwin and Jean Genet and Violette Le Duc.
UFR: You're currently the Artistic Director of RADAR Productions, a non-profit that helps to facilitate events around San Francisco. Can you talk about RADAR a little more? As Artistic Director, what are your goals? Why is the organization necessary?
Tea: I had been curating literary events such as Sister Spit and other year-round performances for about ten years when Jeff Jones, the Director of the Queer Cultural Center in San Francisco and also a real mentor and nurturer of queer artists sort of took me under his wing. He explained that I actually had a program calendar that was more ambitious and successful than a lot of fully funded arts organizations, and I wasn't making a penny and neither were the artists I worked with. He helped me understand my work as that of a non-profit and then took me through the millions of steps to actually bring me there. It's amazing, it has changed my life 100% in every aspect. We do a lot of incredible programming: a monthly reading series at the San Francisco Public Library, the Sister Spit tours, our annual writers' retreat in Mexico, an annual poetry chapbook contest and an imprint, Sister Spit Books, on City Lights. My goals are to keep growing and being able to get money to the predominantly queer, underground artists I work with; to bring provocative, truthful literature to San Francisco audiences, to expose audiences to new writers and to introduce writers and artists to each other, to help build the careers of the artists and writers we support by giving them resources at every level of their careers—a show, a tour, a retreat, a book. There is no other organization that has this sort of organized focus on queer writers, so I think we are crucial.
UFR: The city of San Francisco in particular seems to have influenced your identity in a profound way. Is that true? Could you see yourself living or writing anywhere else?
Tea:  San Francisco has not just a huge queer population, they have a radical queer population that attracts a lot of artists and people that want to put wild theory into the practice of their lives. It has a huge literary community, and it is a community that is less competitive and career-obsessed, more supportive and community-oriented than other cities. I think the way these communities impact the city makes RADAR possible in San Francisco in a way it would not be elsewhere—though we do want to bring programming to Los Angeles and New York. I could see myself living and writing in Paris or Mexico.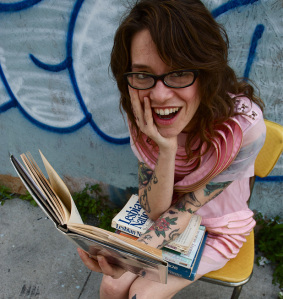 UFR: That being said, Valencia, your portrait of an aspect of San Francisco's culture, was published in 2000, 12 years ago. Has anything about the place changed since then? If so, in what ways have these changes occurred? Have you changed since then?
Tea: Of course. Like all our cities it has gotten insanely gentrified. Rents are prohibitively expensive and a lot of the sort of people who were able to move to town in the 90s, like I did, can't swing it. And I hope I have changed since the 90s! I think I'm probably a totally different person. A 41-year-old as opposed to a 21-year-old.
UFR: What are you currently reading? How is it?
Tea: I am reading Baby Geisha by Trinie Dalton. It's wonderful! I am utterly charmed by her writing. There is a sweet innocence and natural optimism and a tropical magic going on. I want to live inside her stories, they are sexy and strange and sassy and real even as they are sort of fantastical.
UFR: What are you currently working on? As a writer, where do you want to go? What's next?
Tea: I am working on edits to the first in a YA series that will be publshed next year by McSweeney's. The first book is called A Mermaid in Chelsea Creek. I'm finishing another YA book titled Little Faggot, and I am re-working, for the hundredth time, a sprawling memoir that I fictionalized and tore the main relationship out of due to the protests of the person I'd written about. So it is becoming a weird meditation on memoir, love, addiction, being stuck, all set against the backdrop of the end times, Los Angeles, in the 90s. It is called Black Wave.
UFR: As an artist, what's been your biggest obstacle?
Tea: Managing my time!
UFR: If you were to give one piece of advice to an aspiring writer, what would you say?
Tea: Just write! People think they need all sorts of shit to write but I assure you you only need a notebook and a pen, and the ability to prioritize it in your life. Everything else will fall into place.
UFR: A question I love to ask: Does art have a place in you, or do you have a place in art?
Tea: Yeah, I love looking at art, it's one of my favorite things to do and I am very psychically influenced by the art I expose myself to.