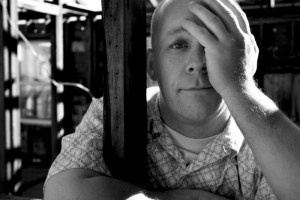 Buddy Wakefield is the two-time Individual World Poetry Slam Champion featured on NPR, the BBC, HBO's Def Poetry Jam, and most recently signed to Ani DiFranco's Righteous Babe Records. He's the author of Gentleman Practice and Live for A Living and he tours regularly. More here.
***
UFR: Notably, in 2001 you quit your job and took to the road in order to tour and share your poetry nationwide. What was that experience like?
Buddy Wakefield: Necessary.
UFR: What prompted such a decision?
Wakefield: A combination of things:
–       recognizing how possible it was
–       doing the financial and logistical tour math
–       consistently receiving desired crowd response
–       trusting the Poetry Slam community
–       not trusting the company I worked for
–       being 27
UFR: If you could, would you have done anything differently?
Wakefield: Absolutely.
–       So many great vehicles available with space for sleeping…. I would've gotten one of those, instead of a Civic.
–       I would have been easier on my body.
–       I would have done this one show in Missouri. I can't remember the town any longer, though I feel like it started with a J. The organizer was so stinkin' bummed that I didn't follow through with the commitment. I was too broke to backtrack to her gig without a guarantee. I also recall that I had somehow mis-routed and was 6-8 hours away. I wish I would have followed through for her. I have thought more than once to make the show up for free, but I do not remember her name or even the town. I would remember a specific from the exchange we had when I emailed to cancel the show. I would remember her name and the town if she refreshed me. Let it be so.

UFR: What's your best story from life on the road?
Wakefield: I don't know that there's a "best" story after that long. There' a bunch. I love to laugh, and there was a lot of that… Revival tours with Derrick Brown and Anis Mojgani were so epic. There must be a favorite story from nearly every day with them. The first time opening for Ani DiFranco; the San Quentin State Penitentiary story I wrote about in "Live For A Living"; getting the phone call from Norman Lear; the show with Andrea Gibson and Katie Wirsing in the basement of a bar in Scotland… Oh, here's a quick one:
In London, a gentleman named Leigh Perry offered for us to return our rental car and drive the rest of our Europe tour. We accepted. It was the I Am A Lagan Tour with Katie Wirsing, Andrea Gibson and myself. The three of us had taken to trading off written dares. Two rules were:
1.) You must keep a straight face at all times during a dare.
2.) You must never justify/qualify/explain anything you did during the dare to anyone ever.
Leigh is a shy, pleasant man (he may weigh less than Andrea, and Andrea pretty much only eats tree bark and lawn clippings). Prior to touring a castle in Edinburgh, Scotland we handed Leigh a dare, which read something along the lines of:
Your dare (should you choose to accept it):
While purchasing tickets for entrance to the castle, you may not use the word "ticket."
You may only use the word "boner."
We watched poor Leigh mildly approach the ticket booth. We could hardly contain our downright juvenile chuckling as this proper, reserved new friend of ours nervously uttered, "Four boners please."
I wish I could tell you the look on the attendant's face or some extended reaction, but it was not so. There was only the anticipation of Leigh having to answer to the question, "Come again?…."
UFR: You've published three books: Gentleman Practice, Live for A Living and Some They Can't Contain. How would you describe your writing?
Wakefield: I would describe the narrative as useful information, often mis-gathered and mis-relayed by a well-intended, young, somewhat preachy kid with a souped-up sense of self-importance.
I would describe the performance poems in those books as made with precision, good will, quality of thought, time and intention, [com]passionate, true of heart and best foot forward.
UFR: When you write, what are you trying to explore?
Wakefield: I am exploring the distance between me and my high ideals, for one.
UFR: What are you trying to examine, question or find?
Wakefield: Well, for four, I am examining equanimity, release, inconsistencies and the eradication of suffering.
I am questioning my reactions. I am also super curious how I could have wasted so much time believing in such a mean-spirited, irrational God, yet I had Santalessness pegged by 1st grade.
I am finding the importance of practice over knowledge. I'm finding the endless linkage of everything that happens in the universe at once in any form from the very moment I lose or gain sight of my breath. I am finding that animals only say what they need to. I am talking to tell you to stop.
UFR: You're a pretty distinguished slam poet, as you're a two-time world champion. What is slam poetry, exactly? How would you define it?
Wakefield: "Poetry Slam" is an effective gimmick to get folks excited about poetry. It's the competitive art of spoken word. It's a competition, judged and so on. It's accessible to everyone, and a great starting point for many, and it serves such a fantastic purpose. It provides a fully democratic platform. You don't have to be passionate about reading dead slang to enjoy Poetry Slam. You get to witness real live people share the credit for a period of creative presence. It's an event available to every voice, no exclusions; some are not well accepted by the audience, but no exclusions to sign up. I'm thankful it exists. It was the catalyst for why I am able to do what I love for a living. I have not slammed (save a couple special occasions) in years. Competition is not an instrument I like to play much any longer.
"Slam poetry" is a term that seems to have evolved into a generalization, given to a style of delivery culminating in rapid, rhythmic, cathartic voice and presence. Spoken word artists highly influenced by Hip Hop are also often labeled slam poets. Anyone expressing themselves and exploring themselves and utilizing the gift of this platform of Poetry Slam, especially who may not have an extensive literary education and well-adjusted life, are subject to having their writing referred to as slam poetry, likely by super stuffy scholars who could stand to loosen up a great deal.
Poetry Slam is an event.
Slam poetry does not exist (not outside of its practical role of being any given poem entered into a Poetry Slam).
I've been watching at close range since 1998. The styles of the poems entered into Poetry Slams are clearly infinite in scope.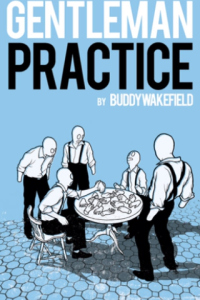 UFR: What makes a good slam poet?
Wakefield: Purpose. Intention. Connection.
UFR: When did you first start writing?
Wakfield: 7th grade. But I started making complex lists in the 6th grade.
UFR: Can you remember your first attempt to write a poem? What was it like?
Wakefield: I loved how the page accepted my awkward color so willingly.
UFR: A question I love to ask: how has your life informed your writing, and vice versa, how has writing informed your life?
Wakefield: My life has informed all aspects of my writing. My writing has informed my future.
UFR: Since you've started writing, has your understanding of poetry changed? If so, how? What do you consider a poem to be in the first place? Is it a story? A series of images? Something else?
Wakefield: I have not concerned myself with what is and is not a poem. I have set no limits around what that must look, sound or feel like.
UFR: What makes an effective metaphor?
Wakefield: A good sucker punch.
UFR: Out of all the poems you've written, which one means the most to you? Why?
Wakfield: That's like asking: Which of the following means the most to you?
A)   100%
B)   100%
C)   100%
D)   100%
I feel 100% about "Convenience Stores" and "Pretend" and "Horsehead" and "Flockprinter" and "In Landscape" and "My Town" and "The Information Man" and "Human the Death Dance" and "Giant Saint Everything" and "A Hole in God" and "A Waste" and "Disclaimer" and "Gandhi's Autobiography" and and and….
UFR: As an artist, how do you define success?
Wakefield: Are you letting the right one in? Do you experience equanimity? Are you enjoying yourself more with age?
UFR: Do you consider yourself a successful poet?
Wakefield: Yes.
UFR: A successful performer?
Wakefield: Yes.
UFR: Successful at all?
Wakefield: Absolutely.
UFR: Who or what are some of your creative influences?
Wakefield: I am influenced by everything. Everything. Every thing.
UFR: How important is community in the world of poetry?
Wakefield: I would not have been afforded the opportunity to live this life as a poet if it weren't for the community of poetry lovers who encouraged and supported along the way.
UFR: As an artist, what's been your biggest obstacle?
Wakefield: Mistaking passion for a solution. Desperate burning bloodsucker passion. Insatiable black hole passion. Holding pattern passion. Learning to write without passion clots.
UFR: What keeps you going?
Wakefield: The reflection. The intention. The idea that someone who had a similar starting point will recognize my writing on the wall as their own, and they will trust it to walk from the bottom of the barrel out.
UFR: What are you currently working on?
Wakefield: Henhouse. Henhouse is modeled after Penthouse, but for chickens, and their lovers. It's an informative, witty publication inspired by hens with their wattle on the pulse, The Onion, Farmer's Almanac, and mother-clucking facts facts facts; geared toward new chicken owners, but made for everyone to laugh with and learn from. The popularity of raising chickens in urban and suburban areas continues to grow like crazy, and Henhouse offers up a wealth of how-to's, tips and guidance for this new wave of environmentally conscious chicken owner. Experienced owners will also find Henhouse a valuable resource for helpful information on all things chicken; but with a playful, educated and current appeal. We're accepting submissions until the end of the first week in May, 2012. The latest journal entry on www.buddywakefield.com has details.
UFR: Last, what one piece of advice do you have for aspiring writers?
Wakefield: Don't fake cry.
UFR: Please share anything else you would like to say.
Wakefield: 1) www.dhamma.org Equanimity. Healin'. The pressure release valve. There are no charges for the courses – not even to cover the cost of food and accommodation. All expenses are met by donations from people who, having completed a course and experienced the benefits of Vipassana, wish to give others the opportunity to also benefit. Be ready to work on yourself, diligently and vigilantly, patiently and persistently, for 10 days. It is the only universal way out of negative habit patterns that I have come to know. The consequences are immediate. Continuity of practice is the secret of success.
2) Montana, Mississippi and North Dakota are the only three states I have not performed in as of today, April 19, 2012.