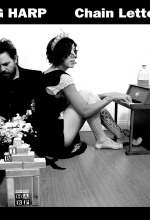 Chris and Stefanie formed Big Harp in December 2010, and released their debut album, White Hat, in 2011. They will release their sophomore album, Chain Letters, on January 22 via Saddle Creek. More at http://bigharp.com/.
***
Prologue 
Outside I can hear the palm rats scraping their way up the rough trunks of the Mexican Fans (Washingtonia robusta) in the alley. Stef thought she heard one in the kitchen. It wasn't a rat. It was the automatic soap dispenser set off by the quivering limbs of a dying spider plant. We're sitting on our couch, our green couch stained with chocolate milk and bodily fluids, the same couch we wrote both of our records on. Different rooms though. For the first one, White Hat, the couch was in a well-lit, white-walled room, with a view of the San Gabriel mountains and the big Magnolia in the front yard. Now it's shoved in a dim corner of a dark room with old wood-paneled walls, somebody's idea of a little rustic paradise. Dead somebody, probably. The living like it too.
We started the band in late 2010, but the roots go back to 2007, when Stef and I met. I was playing with Art in Manila as a hired gun opening for Stefanie's band The Good Life on the west coast. We started hanging out, binge-smoking and chain-drinking, and we never stopped. Never stopped hanging out I mean. Within a few months Stef had a gut full of baby, and the bender came to a quick and bloody end.
We got married, moved from L.A. to Omaha, had a kid, moved from Omaha back to L.A., and had another kid, all in about three years. Stef toured a bit, twice with The Good Life and once with She & Him, but we didn't play much at home. I got a job at an ad agency doing data entry. Strictly "call the number at the bottom of the screen in the next five minutes" kind of stuff. Male enhancement pills, beauty schools, etc. I quit that job and we made White Hat. We talked to the folks at Saddle Creek about putting it out. They did. Some people liked it and compared us to people like Nick Cave and Townes Van Zandt. Hey, they said it, not me. The record was straightforward, slightly twangy folk-rock with an undercurrent of dark humor, and by far the most conservative music we'd ever made. Stef cut her teeth in the L.A. punk scene, and my previous band was a noisy, lo-fi kind of thing. We wanted to sound like adults, and we wanted to make music that echoed the sounds of our childhood — old country for me, '70's folk for Stef. I think we did that, but right away we started itching to scuff it up. When we packed up the kids and went on tour, the songs — as is often the case — got faster and faster, dirtier and dirtier.
We figured we ought to make a record that reflected the live show a little better, so we moved the couch to its current home and started writing with that in mind. Stef runs a rock camp for girls in Omaha, and that was a big influence on the new record too. Seeing those kids pick up instruments for the first time and start writing was amazing. We wanted that kind of raw freedom for ourselves. We gave ourselves permission to get as dark or rough or loud as we wanted, and we ended up with Chain Letters.
If our first album sounds a lot like where I'm from — an isolated town of 2800 in rural Nebraska — then this one is planted about halfway from there to Stefanie's hometown, Los Angeles. We built the record around Stef's crackling fuzz bass and lyrics that deal with with escape and surrender, and the places where they overlap. Hopefully we landed closer to mid-'70's Iggy Pop than Leonard Cohen this time. Really I'd like it to sound like Leonard Cohen fronting the Pixies. It doesn't though. Maybe a little. You tell us. We recorded the album partly at ARC in Omaha with engineer Ben Brodin, partly at our home in Los Angeles, and it was mixed by Mike Mogis (Bright Eyes, Monsters of Folk, etc.). Our friend John played the drums. I play messy, angular guitar and keyboards and sing alternately like a burned-out country crooner or a three-sheets gospel backslider. Stef plays raw, howling, fuzzed-out bass and sings like a ghost. Her bass playing was featured in Guitar World's "Best of SXSW 2012." Shit. It's one in the morning now. I gotta go to work today. See you if I see you.
Chris Senseney
October 2012
I only had a little, I swear.
***
UFR: Your bio on your site gives a pretty cool narrative of how you two formed Big Harp. Tell us a bit more about how you met and how this band came about. What was your initial idea of what this band would be?
Chris: We met a few times in Omaha, but we really didn't get to know each other at all until we were on tour together. I was playing in Orenda Fink's band Art in Manila as sort of a hired gun, and we were opening for the Good Life on the west coast. We hit it off right away, and nine months later we were married and Stefanie was seven months pregnant. That was in 2008, but we didn't start the band until December of 2010.
Stef: Initially we thought Chris was going to make a solo album. He'd been playing me some songs and I loved them and convinced him that it was time for him to make a record. I booked the studio time and then once we started working on the songs it started to feel more like a collaboration than a solo record.
UFR: Your sound – on the first album – has a distinctly narrative quality to it. Is this something you set out to create when you first began this project?
Chris: Not really. A lot of the lyrics I was writing at the time were coming out as little stories or character sketches. It was a natural thing, definitely not something I was consciously aiming for.  Obviously, the two Nadines were intended to work together as a larger thing, but the rest of the songs are really separate from each other. When we started working we had a big pool of songs, and I asked Stefanie which ones she wanted to work on. There was no real concept behind it. We worked on twelve or thirteen songs for about a week, then went into the studio and recorded eleven of them.
UFR: For me, at least, there is an elegiac – and, yet, hopeful – quality to the lyrics on White Hat. I think the music adds to that hopefulness. Was this intentional?
Chris: I didn't intentionally set out to capture any specific feeling with the lyrics.
Stef: As far as the music goes, I think I do have a tendency to make things a little bouncier or more upbeat. It's not an intentional thing, though.
UFR: In a recent interview, you said this new record you're putting together is "more of a rock record." Tell us how it's different than White Hat.
Stef: It is more of a rock record. When we started writing for this record, I think we felt a little freer than we did for White Hat. We were in a totally different place. The kids were a little older and we were starting to feel younger again. I had just finished my first year running the Omaha Girls Rock camp and we were really inspired by the girls. Seeing how free they were made us want to recapture some of that for ourselves.
Chris: I think, also, as much as we love folk and folk-based music, we also love a lot of other stuff. To me, all rock music is kind of folk-based anyway.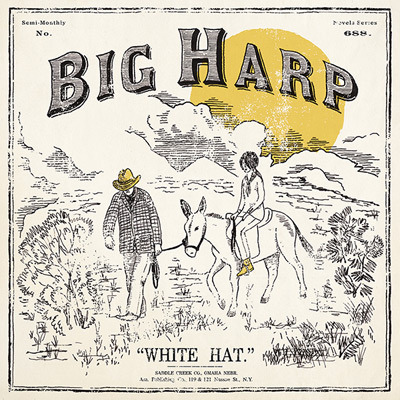 UFR: You're currently touring in Europe throughout the month of September. What's that like? Are the kids in tow? Any great road stories?
Stef: Well, we're back now. The kids did come with us. It was great and hard. The clubs treated us really well and the audiences were great, but we were all jet lagged. On other Europe tours I have been on we would all sleep in the van or at the clubs or wherever we could to catch up. With kids in tow that isn't an option. So we were a bit tired and the kids were a bit confused but all in all it was good.
Chris: If there were any good stories, I don't remember them. The clubs gave us a bottle of Jameson that we finished every night.
Stef: Ha. We had a glass or two a night, maybe.
Chris: I was excited to get to try all the strange new cold cuts. Cold cuts for breakfast, cold cuts for lunch, cold cuts for supper. And cheese.
Stef: And bread.
UFR: Stefanie – I know you've talked about this elsewhere – you're involved in a really cool Omaha Girls Rock project. Can you tell us a bit about what made that come about and its purpose/goal?
Stef: Thanks! My brother and sister in-law told me about the Girls Rock camps a couple years back and I fell in love with the idea. I was living in LA when I decided to start the camp. I wanted to do it in Omaha for two reasons. One reason was to give back to the community that had given so much to me. The other was I felt Omaha still had a very male dominated music scene. The purpose/goal of the camp is to empower the girls and give them the confidence to become whatever they want to be. It was really empowering for me as well. I have never worked with so many amazing women!!
UFR: You cite Townes Van Zandt and Nick Cave and others as influences – echoes, as you say on the site – and one certainly sees that in the first album. Yet, it's definitely new and different. How did you set out to individualize yourselves as a band when making that record? How does that inform what you're doing with the new record?
Chris: Actually, going into White Hat we were almost looking to de-individualize the music. I think we wanted to prove to ourselves that we could make simple music that could get to the store without a Hoveround. I grew up with a lot of old country and we both heard a lot of classic singer-songwriter-y stuff growing up.
Stef: For me, on White Hat I was really trying to be tasteful and play what seemed right for the songs. On the new record, it's almost the opposite. I went more with what felt good.
Chris: The instruments and the arrangements definitely play a much larger role on the new album. We wanted to get more of ourselves in it.
UFR: What are your goals? As a band? As professionals? As a couple?
Chris and Stef: As a band, to keep making music we like. As professionals, to be unprofessional. As a couple, to make bean dip and eat it before we fall asleep tonight.
UFR: What inspired you as you wrote the new record? How did those influences effect what you created?
Chris: We wanted to make a record that was a little harder and darker, and I think we did. Like everything else we do, as we were writing and recording our goal kept changing, so it's hard to pin down any specific influences.
UFR: Why do you write – music and otherwise?
Stef: I guess for me, it's just something that I do. I don't necessarily know why, but I can't imagine not doing it.
Chris: I never feel like I've quite done it right, which is sort of what I enjoy about it.  It's an endless process, and there's no hard right or wrong. It always feels like the next song is going to be the best one.
UFR: You're both very busy – jobs, the music, two young children. How do you balance all that? What do you do to focus on your relationship and keep it strong?
Stef: I think we're pretty lucky. We honestly don't get to focus on our relationship that much. We work really well together, whether it's parenting, working on the band or cleaning vomit off the floor. No matter what we've been working on all day we end up sitting together with a drink and some laughs at the end of the night.
UFR: What are your big loves outside of music?
Stef: I love books, I love my family and I love whiskey.
Chris: Weird, me too.
UFR: What are each of your guilty pleasure albums/artists?
Chris: Meat Loaf, Bat Out of Hell. It's fucking terrible, but it's so terrible that it's perfect. Actually, it's not even terrible at all. It's perfect. And a little terrible. I don't know. I heard it a lot growing up.
Stef: I sing John Denver songs to my children at bed time.