This is the latest in Robert Stapleton's Reading the Groove. To go to the column page, please click here.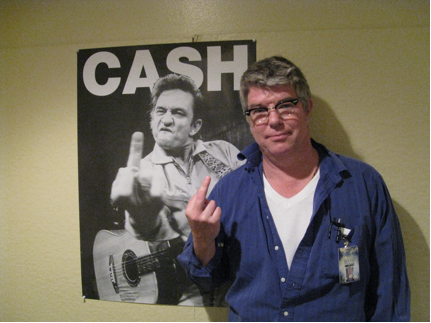 Chris Offutt is the author of No Heroes: A Memoir of Coming Home, Out of the Woods, The Good Brother, The Same River Twice, and Kentucky Straight. He has received awards from the American Academy of Arts and Letters, the National Endowment for Arts, and the Guggenheim Foundation. He has written for the television series True Blood and Weeds and created Tough Trade, a pilot about three generations in a Nashville music family, starring Sam Shepard, Trace Adkins, and Lucas Black. In 2011 Offut wrote and starred in the short film The Trapper. He teaches at the University of Mississippi.
***
Robert Stapleton: In 2007 you wrote the foreword to Down to the River, a book about Iowa musicians by photographer Sandra Dyas. In it, you describe the rumble of Greg Brown's voice as "cordwood tumbling underground." That's a wonderful line. Have you considered writing about music more often? 
 
Chris Offutt: Not really. I was asked to do that by the photographer, and since I'd never written about music before, I thought I'd try it. The essay was as much about the community of musicians who live in a small town as much as it was about music. If more people asked me to write about music, I would.
I have occasionally tried to base a short story on ballads, but the results have never been too good. I wasn't able to get away from the song well enough, to free my imagination.
RS: What is the current status of Tough Trade? 
 
Offutt: In Hollywood, the term is "in turn-around," which means that the series is seeking a network. It was a long and complicated process that involved writing and re-writing the pilot for three different networks:  HBO, TNT, and Epix. Epix funded the pilot. They liked it well enough that they hired me to write three more episodes. But Epix ran out of money and the project was shelved. Lions Gate is the studio that's involved, and they're trying to get it set up elsewhere. I don't know all the details. I did my job and everyone was happy. It's out of my hands.
Right now I'm working on a new pilot set in Texas.
RS: Tough Trade is the story of a family that ends up broke despite their musical successes. What kind of inspirations were you working from? 
 
Offutt: Well, there are a lot of family dramas—from the Greeks to the Old Testament to TV shows.  Most of them deal with at least two generations. I wanted to add a third generation and have them all live together. Also, in the past few years many grown adults have been forced to move back in with their folks for economic reasons. I realized that if I had these strong independent characters go broke, they'd be forced to live together.  And these days, a lot of people are having a rough time financially.
There's a lot of father/son material in Tough Trade, which is a theme I often write about.  Plus, American culture loves success stories of the underdog, and is intensely interested in the stories of lost success, too.
I think country music went all to hell in the 80s and 90s, then got hijacked by the political right wing. I wanted to explore that in the show.
RS: Appalachia is sometimes synonymous with music. Was there music going on at home when you were growing up in the foothills of eastern Kentucky? 
 
Offutt: To me Appalachia is synonymous with gorgeous land, independent people, rugged individualism, unemployment, social problems, and poor education. Music is often the art form of choice for people in that situation, whether they are on the Mississippi Delta or in the urban ghettos and barrios, or in the rural West.
Music is a way of telling stories that's very individualized, and doesn't require fancy education or money. When I was a kid, there were no art galleries or museums or bookstores. Reading and writing was not valued by the culture. But music was.  And many people could learn to play a guitar, banjo, mandolin, or fiddle.
My family was not particularly musical, but many of my neighbors were. It was not uncommon to hear people playing and singing across the ridge or in the hollow below.
We got one radio station and it played country. Everyone listened to it. In their homes and cars and stores in town.
RS: You have a son who plays guitar. Did you ever have to tell him to turn the volume down? 
 
Offutt: I never asked him to play or sing quietly. He is from the generation of portable music players with earphones and ear buds. So it wasn't as big an issue as it was in earlier times. He's a pretty good guitar player, too.  Writes his own lyrics and music.
RS: Do you ever have music on when you're writing?  
 
Offutt: Not often. I find it distracting. Sometimes I'll listen to classical or jazz.  But never anything with lyrics.  I'm so attuned to verbal language that I lose track of what I'm writing. I pay too much attention to the lyrics.
RS: Nick Hornby wrote an essay about the song he's listened to the most in his life ("Thunder Road"). Is there one song or album that keeps finding its way to you? 
Offutt: Over the years, different albums and different songs have been very important.  Johnny Cash at Folsom Prison in grade school. Lynyrd Skynyrd in high school. Then Springsteen, The Clash and Dylan. I still listen to them. Dylan and the Clash are my top faves of all time.
Also, I always loved Railroad Songs, Workingmen songs, Folk songs and the Blues.  I love old jazz, especially Monk.  For classical, I prefer Mahler and Wagner.
RS: If you could put a soundtrack to some of your oeuvre, who would you include? 
Offutt: Cash, Dylan, the Harry Smith Collection of American Music. Goose Creek Symphony.
More of Robert Stapleton's Reading the Groove at Used Furniture.