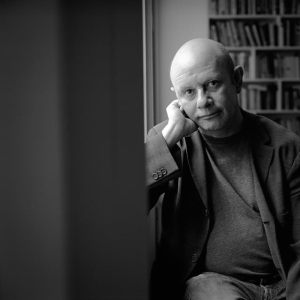 Nick Hornby is the author of the novels Juliet, Naked, Slam, A Long Way Down, How to Be Good, High Fidelity, About a Boy, and the memoir Fever Pitch.  His collection of essays on music, Songbook, which has been described as the soundtrack to his life, was a finalist for the National Book Critics Circle Award. A former pop music critic for the New Yorker, he has also performed with the rock band Marah in a show that integrated spoken word and live music. Last year, Hornby wrote lyrics and stories in collaboration with Ben Folds for the album Lonely Avenue, which was released in September 2010.
***
Reading the Groove offers brief conversations with writers about the intersection of music, rhythm, language, inspiration, and occasional bad taste. To go to the column page, please click here.

Robert Stapleton: What music are you excited about currently?
Nick Hornby: Well, there's always something. I like Steve Cropper's tribute to the 5 Royales, Dedicated, a lot. Also a young roots/rockabilly guy called JD McPherson. I've only played the new Vanderveer album a couple of times, but it sounded lovely. And I'm really looking forward to hearing the next Blind Pilot record. Like most people, I suppose, I'm ambivalent about downloading/the death of the record store/etc etc. But if you love music, and your job is sitting at a desk, with no boss, then in the average day you're likely to come across something fantastic that you've never previously heard of. That's a pretty good compensation, I'm afraid.
RS: A lot of writers don't listen to music when they work because the lyrics interfere with their train of thought, the formation of their own words. I wonder if the process is a little different for you. What role does music play when you're working?
Hornby: See above. It's not a helpful role, really, unless you take the view that no consumption of art is ever truly a waste of time. But most days, music and writing fight. I still find music very helpful at odd moments — a song can help me look at something I'm writing in a different way, or feed into a character, or spark a piece of narrative. But I fear I can't justify every single minute of my musical time-wasting.  Is a Youtube clip of Delta Spirit really going to help me with the adaptation of Colm Toibin's Brooklyn that I'm trying to write? Nope.
RS: I love your math in the 2001 essay "Thunder Road." You estimate that you had listened to the song over fifteen hundred times, roughly once a week for twenty-five years. Also, you figure that The Clash's "(White Man) In Hammersmith Palais" was in the two-slot as the song you listened to the most in your life. What's the score ten years later? Has another song bumped either of these? Are Springsteen and The Clash still in high rotation?
Hornby: Well, something bad happened with "Thunder Road" three or four years after that essay came out: my kids discovered it. That means you go from hearing it once a week to about ten times a day, for a brief period, and then it's dead. No piece of music can survive that sort of exposure. My boys never really listened to nursery rhymes — they weren't allowed to know such things existed in recorded form. They listened to "Wooly Bully" and Little Richard instead. My friends admired my North-Korean-style cultural policy, but actually, you end up in the same place anyway — maybe you can stand to listen to "Woolly Bully" two or three times in a row, but after forty or fifty plays, it begins to sound like "Incy Wincy Spider" regardless, despite all one's best intentions. I still have to sing them "Thunder Road" at night sometimes, if they can't sleep. So I haven't played it of my own free will since about 2006. They've left the Clash alone, though. They watch X-Factor religiously, so they don't think Joe Strummer (or Bob Dylan) can sing. "He's pitchy, Dad!" They actually use these terrible terms, which they've learned from people who know nothing at all about anything apart from how to sound like Justin Bieber.
RS: You've said that a live version of Springsteen's "Prove It All Night," was a big influence when you were writing A Long Way Down. Similarly, Richard Ford has pointed to Springsteen's "Independence Day" as the inspiration for his novel of the same name. What other songs or musical moments have inspired your work?
Hornby: There's usually something. I can remember telling myself that I wanted About A Boy to sound like "E-Bow The Letter," by REM, but I have no idea what that might have meant. I don't think I knew then. I was playing a Spiritualized song a lot during Juliet, Naked, a track called "Sad Days Lonely Nights" off a tribute to Junior Kimbrough. It's so loud, and so angry, and the guitar solo at the end is the sound of a nervous breakdown.
RS: Juliet, Naked features a reclusive rock star, Tucker Crowe. An acoustic version of his classic breakup album becomes a pivot in the story. What real world inspirations were you riffing on here?
Hornby: Well, it was everyone, rolled up into a ball. Salinger, of course, and that terrible photo of him looking angry and scared — I'd always liked the idea that it might not have been him, just some old guy who, quite reasonably, didn't want his picture taken by some weirdo. Richard and Linda Thompson and the Shoot Out The Lights tour, Jackson Browne and Late For The Sky, Dylan…There are a lot of stories about reclusiveness and break-ups.
RS: You've toured and performed with Marah, made a music video with Pomplamoose and Ben Folds, and have now become a songwriter/lyricist with Ben Folds. What other music-based projects would you like to do?
Hornby: Ben and I have talked, more than semi-seriously, about a stage musical. His music would be perfect for something like that. Whether we'd ever get around to it, though…
***
Robert Stapleton is executive editor of Booth and teaches at Butler University. His writing has appeared in Word Riot, OCWeekly, Bathhouse, Journal of the Gulf War, Orange Room Review and elsewhere. He lives in Indianapolis.
More of Robert Stapleton's Reading the Groove at Used Furniture.