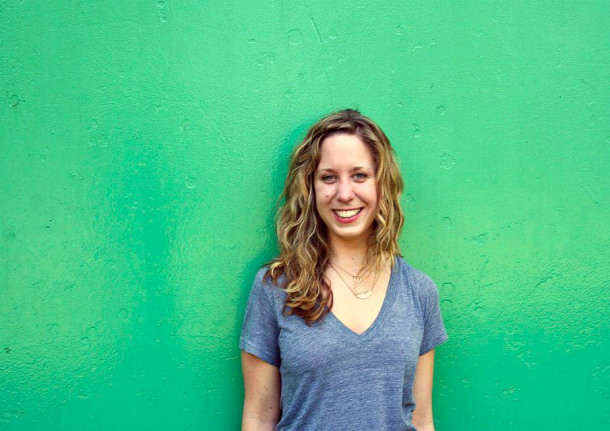 Chloe Caldwell is the author of the essay collection Legs Get Led Astray (Future Tense Books). Her essays have appeared in The Rumpus, The Nervous Breakdown, Mr. Beller's Neighborhood and Freerange Nonfiction. She is the founder and curator of the Hudson River Loft Reading Series. She lives in upstate New York. More at www.chloecaldwell.com.
***
UFR: Congratulations on the publication of Legs Get Led Astray!
Chloe Caldwell: Thanks, Judy! It's pretty delightful. Thanks for taking the time to talk to me about it.
UFR: I loved LGLA. Did you write the essays knowing you would eventually collect them into a manuscript? And if not, how did you choose which essays to include?
Caldwell: I just looked at the book to answer your question. Thirteen of the essays were written when I wasn't thinking about doing a manuscript. I wrote them for fun, and in my writing workshops, and I published them online. But in the fall of 2010, my friend and I had a deal—we would do our own personal NanoWrimo, and send (snail mail) 200 pages to each other by the first of October or something like that. After I sent him my pages, I started thinking that maybe it would be possible to do an essay collection.
I worked and re-worked that manuscript for the next six months. I sent it to Future Tense Books last April. Since I had a year until the essay collection would be released, I kept writing, but we didn't know what we would and would not put into the book until a month or so before publication. While working on it, my editor and I took out maybe four of the older essays and added almost ten new ones! But by new, sometimes I mean older, such as "The Legendary Luke" and "Getting Comfortable With Being Uncomfortable." Those weren't in the MS when I sent it to Future Tense, but those essays were the first ones I'd ever written. We took out the weaker essays and replaced with the strong.
UFR: I've never experienced so much of what you write about; never lived in New York, for instance, or gotten to watch a Trance Dance, or tried heroin, or read my mom's diaries (though I wish I had now since she's admitted to shredding them). I've never become homeless because the back wall of my apartment building rotted away, but when I read LGLA, what I felt was a strange sort of connection, an experiential understanding I can't possibly really have. What do you think it is about your writing that allows you to connect with readers in that way?
Caldwell: You know, quite a few people have been telling me this same thing, and it rings true to me. I think maybe since the essays have such tiny personal details, it forces the reader to think about their own personal tiny details. I'm so glad this happens, for whatever reason it does.
UFR: I'm very interested in the conversation happening right now around truth in literary nonfiction, whether there is such a thing as objective truth, and whether that should be the goal. I'd love to hear your thoughts.
Caldwell: To be honest, I try not to get caught up in all of this. It's fascinating of course, but I'd rather be writing than fretting about it. I don't want it to get me worked up and held back. In Chicago at AWP this past winter, I went to "The Ethics of Non-fiction Writing" panel where Stephen Elliott, Poe Ballantine, Lee Gutkind, Krista Bremer and Cheryl Strayed spoke. It was there that I realized that there is no right or wrong way to do it. Be respectful, was the main message that came through to me. Cheryl Strayed said, "If you're going to show anyone's ass, it's going to be your own." She also said, "You can't be searching, exposing, and betraying at the same time. It's not possible." I think that is true with my essays. I think it's pretty apparent that my non-fiction is solely my very personal and unique experience. But you can never fact-check memory, so it's the writer's job to do the best that she/he can to be accurate.
UFR: Whenever you write about real people, there is a chance they won't like or agree with how you've depicted them. Do you worry about that? Do you ever let anyone read your essays before you publish them?
Caldwell: I let many people read my essays before I publish them. (At least, I used to.) This book didn't come out as a huge shock to my mother or any of the other main people in the essays. They'd been reading my work for years because I am close with them. "On Snooping" almost didn't get into the book, because my mom wasn't comfortable with it. So my editor and I worked on it a bit, and I showed her the revised version and she okayed it, because she is great. I do worry about it, but since I haven't written anything yet where any of my "characters" are the bad guy, it hasn't kept me up at night. I'm usually the bad guy.
UFR: Has anyone gotten mad at you over what you've written about them?
Caldwell: No. At least not that they've told me. If anything, friends feel forgotten. They're like, "How come insert detail about themselves didn't make it into an essay?"  If anything, some of my relationships with people bloomed. I feel that my mom and I are even closer now than before the book. And the response from my extended family has been amazing. My Uncle sent me a blank journal that he made on Vista Print. On the front it says, "LGLA Book Club" and the back lists quotes from an email thread in which my aunts and uncles (and grandmother!) were discussing the book. My favorite one is from my Aunt Shay, who says, "She may have golden locks but this ain't no fairy-tale."
UFR: I know you've said the title, Legs Get Led Astray, is taken from a song lyric. Can you elaborate any more on that – like why that particular song lyric felt right to you?
Caldwell: Sure—the title comes from the song "Last Love Song For Now." I'm so glad that I eventually thought of this title. I cannot imagine it having anything else. I relate to Okkervil River lyrics. The song writer, Will Sheff, has similar threads in his songs as I do in my writing. He sings about reading diaries, about being lost, about cheating, about family, and about love. I think it's also perfect because Okkervil River was kind of the main band I listened to during the time period that these stories took place. My brother and I went to see him play quite a few times when I lived in Brooklyn.
"Last Love Song For Now" is not my all-time fave song or anything, but the stanza that I quote in the beginning of the book is beautiful to me, and that's the bridge of the song. I played around with taking different titles from it, like "Lambs Out Wandering." I wanted the title to convey the feeling of being lost and running around looking for your true self. "Legs Get Led Astray" implies that. Also, in Will Sheff sort of yells that part. It's powerful.
UFR: One of the things that really pulled me into LGLA is the searching quality in your essays. Whether you're reading your mom's or your lover's journals, assembling multiple conversations into a single, stunning narrative, escaping to Berlin and then escaping back to New York, there is always a sense that you're mining the material of your life. Do you feel like that? Do you know what you're searching for?
Caldwell: I do feel like that and I think about this quite a bit. I think that I was searching for excitement but comfort at the same time, which caused the conflicting emotions. Push and pull. I think I pushed myself to experience stuff, and often I went to my edge. But mainly the search, in everything, whether we want to believe it or not, is for love. So I looked for it: In my family, in cities, in drugs, in music, in sex.
UFR: Now that your book is available to the clamoring public, how has your life changed?
Caldwell: It's weird. I forget that people can get it on their own. It's disconcerting and lovely and unbelievable at the same time. If they bought it and write to me or review it, I'm like, but where did you get it? When? Who are you? Have we met? It's like a control issue that I have to let go. It's like I want to personally connect with everyone that reads my book.
My life has changed because I went from working on it during the first half of my twenties to not working on it. I miss it. I was incredibly driven by LGLA for a while. When I wake up in the morning now, I don't know what to do with myself. For a long time I was only writing. I feel a freedom I didn't feel before, but also sadness. Do you want to know the truth? Of course you do. Honestly, I fell into a depression after the book came out. The book was released on my 26th birthday. After that, I stayed in bed for three days, which is something I've never done.
UFR: What's next for you?
Caldwell: I'm doing some traveling this summer—Portland, Oregon for two weeks, and then I'm going on a Southern book tour with Elizabeth Ellen, Brandi Wells, Donora Hillard, and Mary Miller in July. In the fall I've decided to do a yoga teacher training program, probably at Kripalu, in Massachusetts. I'm not working on a novel or anything.
UFR: You write literary nonfiction. What genres do you like to read?
Caldwell: This will shock you—I like to read literary non-fiction. I just love it, especially when it's stylistically exciting. I do read some poetry to help me feel like writing when I'm not writing. I read fiction here and there, but not much. I read some self-help stuff too.
UFR: What are you reading now?
Caldwell: I just read Love Is Not Constantly Wondering If You Are Making The Biggest Mistake Of Your Life by Anonymous. I ordered Joy School (fiction!) by Elizabeth Berg online today, because I loved it as a teenager and would like to re-read it. But mainly I am reading Taking The Leap by Pema Chödrön. While writing this, literally, a package came for me. It's the book The Defining Decade (Why your twenties matter and how to make the most of them now) by Meg Jay. My mom got it for me. I can't wait to read this book. I'm like a junkie for this kind of stuff. I'm a "figuring myself out" junkie.
UFR: What do you wish I'd asked you?
Caldwell: I absolutely love the questions you asked me. I learned a lot. But I wish you asked me what music I am listening to right now, so I could tell you that I am listening to the greatest hits of Ace of Base.
*** 
Judy Clement Wall conducted this interview on behalf of UFR. Judy's short stories and essays have been published in numerous literary journals and websites such as The Rumpus, Lifebyme, Smith Magazine and Beyond The Margins. You can find out more about her and her work at Zebrasounds.net.