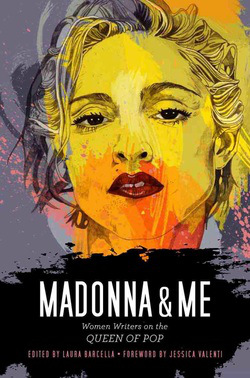 The Reviewed: Madonna & Me: Women Writers on The Queen Of Pop

The Reviewer: Judy Clement Wall
***
If you think you've read all you ever want to read about Madonna, I don't blame you and, trust me, you're wrong. Madonna & Me is a collection of 39 essays written by fierce, funny, insightful women, each reflecting on the undeniable impact Madonna has had on them, on music, on pop culture, and on the world. Like her or hate her (and the writers in this collection do both), Madonna has commanded our attention since she burst onto the scene, "shiny and new," in the early 80s.
I was curious about this book in part because I wondered what I would write about Madonna if asked. Where would I focus my attention? To me, Madonna has always seemed like a master of disguise. I just get used to one incarnation, and she changes. Some celebrities make us feel as though we know them, but I've never felt like I knew Madonna.
Many of the writers explore that aspect of the pop icon, her long list of personas – from material girl to cowgirl to Kabbalist to upper-crust Brit – and what is fascinating to me are the different conclusions they come to. In her essay, "Are you there God? It's me, Madonna," Jamia Wilson is in awe of Madonna's transformative power. Wilson writes of connecting to Madonna's "message of self-love and of seeking a sense of authenticity through experimentation." And while Lisa Crystal Carver argues there is nothing authentic about Madonna — "She doesn't reinvent herself – there is no 'self' to re-anything" — Cintra Wilson feels exactly the opposite, believing that Madonna has been relentlessly self-revealing. She writes, "We have known exactly what her big, unsubtle feelings have been at nearly every phase."
Taken as a whole, Madonna & Me reads like a conversation between smart, articulate women who (like their subject) are not afraid to express their opinions. These women write about Madonna from every angle: Madonna and art, Madonna and sexuality, Madonna and race, Madonna and feminism, Madonna and power, Madonna and coming of age.
In "B-Sides," Lesley Arfin writes about her "tenure as Queen of the Neighborhood," in which she coerced her friends into dressing up, putting on shows for their parents, dancing and lip-syncing to songs from Madonna's True Blue album. Then later, when Like A Prayer was released and Arfin was too old for childish dance shows, she retreated to her bedroom. "'Spanish Eyes' was the song where I finally found my voice," she writes. "The days of lip-syncing were over. I was ready to sing, and sing I did. I belted the shit out of that song."
Whether or not you came of age with Madonna, these stories of growing up – of looking outward for clues, for a map that might help us traverse our suddenly mysterious and conflicted inner landscapes – are so familiar. Every generation does it with different pop heroes but Soniah Kamal captures what is strikingly consistent – our moments of discovery: "We were three excited girls perched on the edge of a green velvet sofa, waiting for a cassette to rewind, not knowing that when the world changes, this is how it happens, in ordinary living rooms on ordinary afternoons."
In one of my favorite essays, Gloria Feldt writes about a whole different coming of age, of being "a girl from the so-called 'ungeneration' – the small cohort born during WWII who grew up among all the Rosies who'd Riveted during the war and then returned to kitchen and kinder of their own volition," a time of no choice and low aspirations for women. Feldt writes beautifully about the women's movement, the path that took her from those discouraging beginnings to her years campaigning for change, and then through her three decades at the helm of Planned Parenthood. I found her essay compelling because she celebrates Madonna, whose trajectory coincided with her own during a "politically challenging time." Though many people (including some of the essayists in this book) have criticized Madonna's overt reliance on sexuality to get what she wants, Feldt observes that "few of us walk as comfortably in our own power as does Madonna." She doesn't glorify Madonna's accomplishments, but she recognizes them as part of a larger feminist whole, saying, "Madonna could speak sexual truth to power because of how far the women's movement had already come."
I was captivated by this book. In the very first line of the forward, Jessica Valenti writes, "There's something about Madonna," and I agree — although, for me, I think that something is the 39 writers who chose to tackle the subject in such thoughtful, provocative, and sometimes hilarious ways.
***
Judy Clement Wall's short stories and essays have been published in numerous literary journals and websites such as The Rumpus, Lifebyme, Smith Magazine and Beyond The Margins. You can find out more about her and her work at Zebrasounds.net.