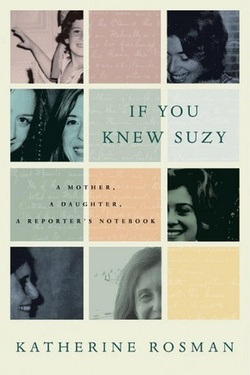 The Reviewed: If You Knew Suzy by Katherine Rosman
The Reviewer: Judy Clement Wall
***
At first I thought it was funny, and then completely appropriate, that the words I'd use to describe If You Knew Suzy don't fit together nicely in a sentence. Words like unflinching, hilarious, detached, intimate, charming, heartbreaking. Wall Street Journal reporter Katherine Rosman's exploration of her mother's life and death from lung cancer is wonderful because it defies easy characterization. It has the painful, searching quality of a daughter memorializing her mother, but there's also a disarming impartiality, like a detective story, a life discovered piece by piece (or lead by lead, as the case may be) by an experienced journalist in search of the facts.
If You Knew Suzy reminded me of Joan Didion's The Year of Magical Thinking in its ability to capture the chaotic, irrational nature of grief without ever dipping into anything as easy (or ineffectual) as sentimentality. For example, here's how Rosman describes the scene with her sister and stepfather in the moments just after her mother's death.
When the nurse left, we went back in Mom and Bob's bedroom. Without speaking, the three of us climbed into their bed. Bob was on his side. Lizzie was on Mom's. I was in the middle. We held hands. We didn't talk. I kept my eyes open… I knew what 'terminal' meant; I understood statistical realities. Yet I was stunned when she actually died.
Later that same day, Rosman and her sister go shopping. They use their mother's credit card because it's what she would have wanted; because after two and a half years, if she could celebrate the end of her own suffering, she'd be right there with them; because the truth is when your life is completely altered in the blink of an eye, sometimes you cling to whatever's familiar. Their interactions with each other and with the staff of the places they visit are funny, and heartbreaking, and human.
One of the things I like most about Rosman's book is the way she organizes it. Once her mother is gone, Rosman realizes how much of her mother's life is a mystery to her, how everyone will be missing someone slightly different, depending on how they  knew her. The chapters correspond to different aspects of her life – Suzy as mother, as champion golfer, as Pilates instructor, as vintage glass collector. It was fascinating to learn about her this way, impossible not to think over and over as I read, what layered and complicated beings we are. I wanted to call up my own mother and start asking about all the parts of her life that don't concern me.
Throughout the book, Rosman plays with time, inserting memories and flash-forwards like photographs, glimpses. My favorite of these comes near the end of the book, when on a sunny afternoon a few months before her death, the once impossibly strong and athletic Suzy asks her daughters to help her to the mailbox. She is frail by then. A walk to the mailbox is no small thing; it takes all three of them to manage it. On their way back to the house, Suzy stops.
She didn't say a word at first. She just tipped her head back, jutted her chin skyward, puffed her chest outward, and with her entire body, absorbed a cool desert breeze.
It wasn't a huge breeze, and had Mom not gotten so still and so quiet, I might not have noticed it at all. But she somehow sensed that it was coming, and she gave herself to it. "Isn't that delicious?" she said. It felt as though she was talking to God as much as to Lizzie and me.
I think that's beautiful, the result of a writer – not a photographer – taking a picture, capturing with such clarity the fullness of a moment and the simple truth that life is made of moments just like these, tender and maddening and more precious than we can possibly know. I'm grateful to Rosman for capturing them here, for reminding me how tiny they are, how easily missed, and how important it is that I not miss them.
***
Judy Clement Wall's short stories and essays have been published in The Rumpus, Lifebyme,Smith Magazine and Beyond The Margins. You can find out more about her and her work at Zebrasounds.net.